The European Conference on Information Literacy (or ECIL)
22-25 October 2013, at Harbiye Military Museum and Cultural Centre in Istanbul, Turkey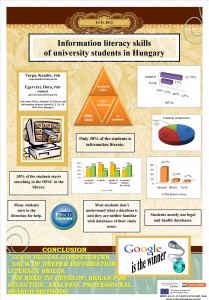 Information literacy skills of university students in Hungary
In Hungary information literacy is not really manifest in public education and higher education programs. Education policy makers are focusing on the problems of digital literacy, and don't take into consideration, that it is necessary to have much broader information competencies in order to survive in the 21st century. Students come to higher education with drawbacks, especially regarding the key competencies (thinking, text comprehension and analysis, information management etc.). They also have difficulties with learning and self-evaluation. The reason is that they have no opportunities in the high school to acquire basic information literacy skills.
At the University of Pécs four surveys were taken between 2006 and 2010 in order to study information literacy skills of the students at different faculties (Faculty of Health Sciences, Faculty of Law, Faculty of Economy and Faculty of Andragogy and Human Resource Management). The aim of the surveys was to get information about students' information searching strategies, favourite resources, information seeking, selection and evaluation methods, and to base a new information literacy strategy.
The questionnaire consisted of 37 questions about demographic issues, general information management habits, and knowledge about scientific information resources. Based on the 667 answers, some really interesting findings can be analyzed. Students looking for scientific information use electronic and printed resources equally, and books still play a major role. 62,5% uses the internet and 57% uses books for gathering information to their assignments. They think that the internet is the fastest and cheapest information resource, and the library is the second one. Internet searches usually start with search engines, after come the subject gateways, thematic portals and finally the personal recommendations.
Only 1/3 of the students apply information literacy competencies during their studies. They have very weak knowledge about professional information resources (e.g. online databases), their main information resource is the internet, and main information retrieval tool is the Google. The complex competencies of information literacy are not known for them, very often they ignore planning before an information solving problem. Only 60% of the students evaluate the results, and about 30% is satisfied with the first 10-20 hits. It means that though the young generation has very good digital literacy competencies, they cannot solve scientific problems, if these skills are not accompanied with all the skills of information literacy: recognition of the real information need, knowledge of possible information resources, professional information seeking methods, selection and evaluation.
Further researches are necessary in order to create a national indicator system and strategy to improve information literacy in Hungary.
Varga, Katalin, PhD
University of Pécs, Institute of Library and Information Science
Egervári, Dóra, PhD student
University of Pécs, Institute of Library and Information Science